Welcome to Shelby Savings Bank!
---
Your Home Loan Is Just A Click Away!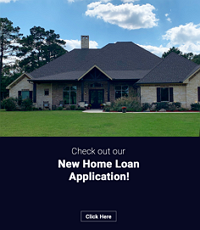 HAPPY NEW YEAR!
January
6th- Lindale Chamber of Commerce Networking Night hosted at Lindale Branch, Lindale, TX 5-6:30 P.M.
13th- Shelby County Chamber of Commerce Banquet at the Windham Civic Center, Center, TX at 6:30 P.M.
20th- San Augustine County Chamber of Commerce at the Museum Theatre, San Augustine, TX at 6:30 P.M.
29th- San Augustine 4H Livestock Challenge at Fairway Farms, San Augustine, TX
February
25/26th- Elkhart FFA BBQ Cook-Off at the ACYLA Riding & Roping Arena, Palestine, TX
March
25th- Panola Designer Purse Bingo at the Civic Center, Carthage, TX
April
2nd- Shelby County Grill Fest at the Shelby County Rodeo Arena, Center, TX